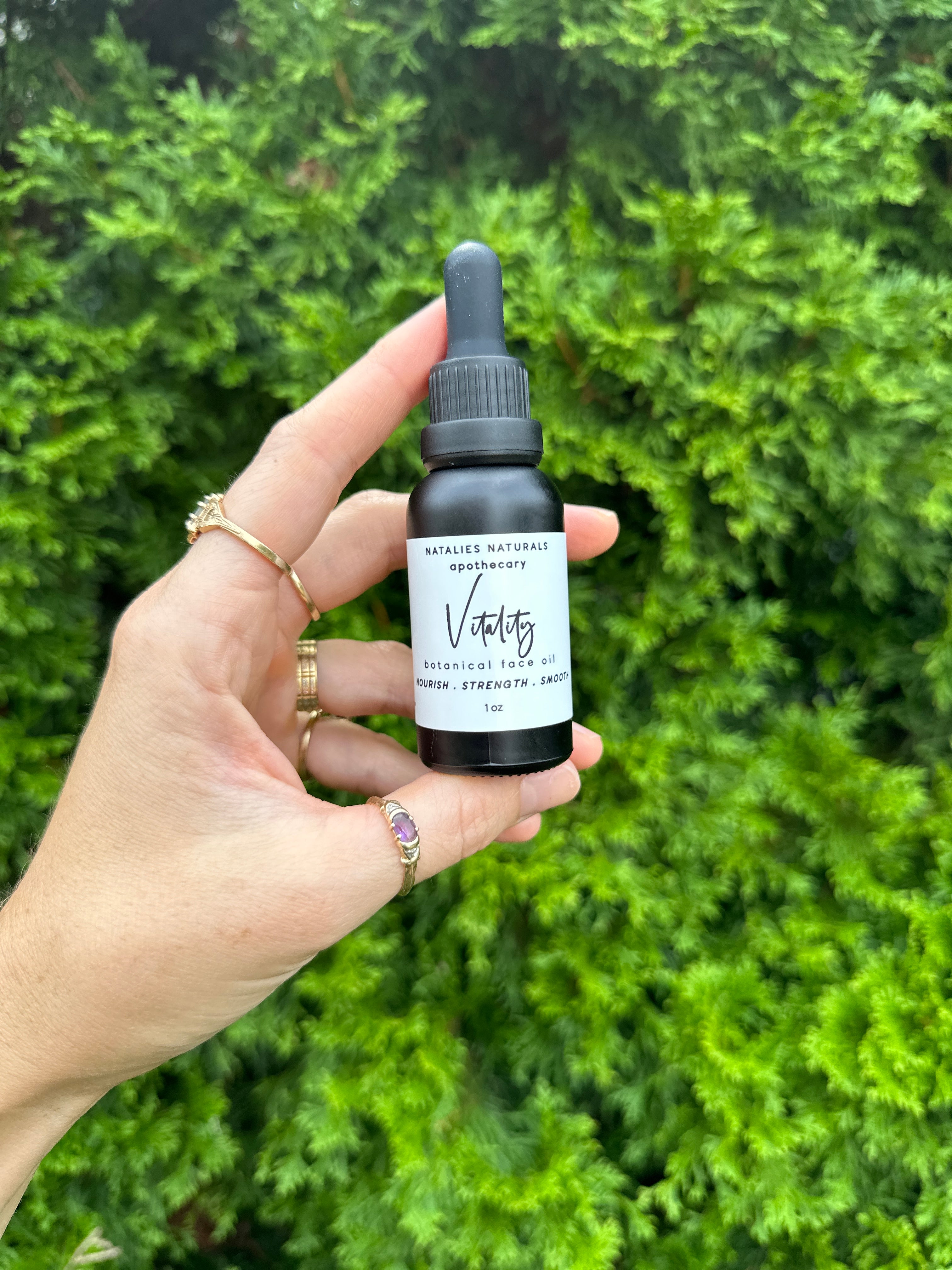 Vitality face oil
---
This face oil is for all skin types, is non-comedogenic and will leave your skin radiantly glowing. The oil penetrates deep and moisturizes, soothes, and clears complexion. 
Rich in antioxidants, essential fatty acids, and other nutrients that are essential to nourish the skin, repair texture and tone. 
Star ingredients:
Collageneer- is an anti-aging and firming ingredient that stimulates the synthesis of a high-quality collagen to increase elasticity and firmness in the skin, helping to remodel the facial contour. Made from lupeol, which is extracted from the coatings of sweet white lupin seeds in a patented process.  Sourced from lupine plants cultivated using sustainable agricultural practices in France
Black seed oil- healing powers are phenomenal, packed with anti-oxidant and anti-inflammatory properties. Rich in essential fatty acids, vitamins, amino acids and flavonoids which all contribute to its amazing abilities for anti-aging, deeply nourishing the skin, and leave you with glowing skin all day thats not greasy! Black seed comes from the Middle East and has been revered as an ancient cure all remedy externally and internally.
Custard Apple Leaf (ashta) Extract- a power extract full of microbial, bacterial, anti-aging properties. A revered ingredient in Ayurvedic beauty remedies 
Camellia Seed oil- high in skin-rejuvenating vitamins, minerals, and compounds, including Vitamin E, Vitamin A, Magnesium, Zinc, and Squalene lipids. These nutrients collectively make the oil exceptionally hydrating, moisturizing, and protective, with high antioxidative power and lasting cosmetic benefits
Rice Bran oil  contains micronutrients such as vitamins A, B, and E, zinc, potassium, and amino acids. Rice Bran oil contains a higher concentration of fatty acids such as oleic acid and linoleic acid that hydrate skin without leaving an oily sheen like other vegetable oils. 
Handcrafted with organic all natural herbal infused oils. A blend of  Oragnic Rice Bran Oil, Camellia Seed Oil, Squalane Oil, Blueberry Seed Oil, Rose hip seed oil, Jojoba oil, Custard Apple Leaf Extract, Sea Buckthorn Oil, Black Seed Oil, Castor Oil, Cranberry Seed Oil, Sweet Almond Oil,  Rose CO2 extract, Collegeneer, Vitamin E